About Us
Red Class (am) & Green Class (pm)

Class Teacher: Mrs K Cluett
Year Group Newsletter - Can All Difficulties Be Solved? - Term 5
Year Group Newsletter - What is a healthy life? - Term 4
Year Group Newsletter - How Can I Change the World? - Term 3
Year Group Newsletter - Who Am I? - Term 1
Year Group Newsletter - What Makes Me Unique? - Term 2
Nursery places available now. 15 hours per week free.
Session Times
AM - 8.40 a.m - 11.40 a.m - £12.00 per session*
Lunch - 11.40 a.m - 12.30 p.m - £4.00 per session*
PM - 12.30 p.m - 3.30 p.m - £12.00 per session*
*Additional paid hours
During a morning 26 children can attend the nursery. 26 children can also attend during an afternoon session.
Contact Details:
Office Manager: Mrs D. Reardon
South Borough Nursery
Stagshaw Close
Postley Road
Maidstone
Kent
ME15 6TL
Tel: 01622 752161
Please inform staff in advance if there is a person collecting your child, who is unknown to staff. You will need to provide a password to ensure safe collection.
Welcome to Nursery Classes!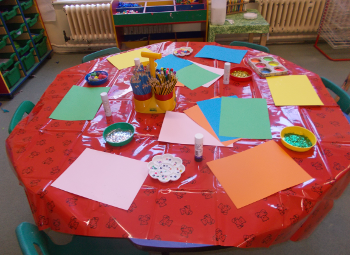 Nursery Staff
Mrs Cluett

Hello, I am Mrs Cluett. I am currently the Nursery teacher at South Borough Primary School. Before Nursery, I was a Reception class teacher for four years. My name was Miss Walker before I got married in February 2020.

To become a teacher, I went to the University of Greenwich and got my teaching degree. This was a very proud moment for me, as I always wanted to teach children.

When I am not at Nursery, I love to read fictional books. I enjoy getting lost into a book. I love seeing my family and friends – whether it is at home, going out for something to eat or shopping.

Mrs Nevis

My name is Mrs Nevis. I have been a part of the South Borough team since the year 2000. I have worked in all year groups and currently work in Nursery with Mrs Cluett. I love teaching the first steps in education.

When I am not in school I love enjoying time with family and friends. Most of all I enjoy socialising and eating out.
Useful Websites for Learning:
bbc.co.uk/cbeebies/topics/numeracy
bbc.co.uk/cbeebies/watch/playlist-something-special-nursery-rhymes