Year 5
Class 5A
Teacher: Mr J Allchin
Class 5C
Teacher: Miss L Collins
Class 5P
Teacher: Mrs N Paterson
Year Group Newsletter - Can All Difficulties Be Solved? - Term 5
Year Group Newsletter - What is a healthy life? - Term 4
Year Group Newsletter - How Can I Change the World? - Term 3
Year Group Newsletter - Who Am I? - Term 1
Year Group Newsletter - What Makes Me Unique? - Term 2
Celebration of Work
13/05/2022
English: In English, we have been writing a diary entry from the perspective of Percy Fawcett, an explorer who disappeared in the Amazon Rainforest. The children have learnt about different tenses and when it would be appropriate to use each one.
Maths: This week, we have finished our unit on decimals. All of the children have worked hard with this and are beginning to understand how decimals can be used within a real life situation. Next, we are looking at geometry, beginning with looking at angles and being able to use protractors to measure and draw angles.
In our work for PSHE, we have been looking at the roles and responsibilities which all users should follow whilst they are online and using games online. Please talk to the children about this and encourage them to think about how they use gaming platforms and other sites safely and respectfully.
Science: This terms science learning has been about Animals including humans. We have recently looked at the circulatory system and how blood flows throughout our bodies. We will continue to deepen this knowledge by looking at what makes up our blood and how water is transferred around our bodies.
29/04/2022
Year 5 have made a great start to the beginning of Term 5, the have been enjoying the class text of The Explorer by Katherine Rundell and learning about South America and its varied climates, biomes and countries for our Geography based topic this term.. In English, they have written a character description based on a photograph of indigenous people of the Tembe tribe as well as beginning to learn about a lost expedition to the Amazon Rainforest in reading. In Maths, the children are getting to grips with addition and subtraction of decimals as well as working on their arithmetic, which is really going well so well done, Year 5. The new PE coach is proving a big hit with the children and they have been learning about cricket this term. 5P are already improving with their swimming and 5A and 5C are working on their Zumba fitness sessions. Keep up the hard work, Year 5.
01/04/2022
In year 5 we have been working extremely hard to understand fractions, decimals and percentages. We are now at the end of this topic and are currently consolidating all that we have learnt. In Writing, we our retelling our own versions of the Anglo-Saxon epic poem Beowulf. The children have been getting to grips with the schools new approach to reading whilst looking at an extract from 'The Hole'. We have been exploring Anglo-Saxon Britain and the roles the Vikings and Normans played. We have also created timelines and debated the roles of Anglo-Saxon kings. Our computing lessons have been focused on developing an understanding of stop frame animation and we have had a go at creating our own!
18/03/2022
This week Year 5 have been conducting their own research about the Viking invasion of Lindisfarne. From this research, the children will be writing their own information text as well as having recorded their own news report about this event.
In maths, we have started looking at decimals and their relationships with fractions. We will begin looking at ordering and comparing decimals. As always, please support your child at home with their multiplication as this will help them in further aspects in their maths learning.
Linked to our science learning, we have recently created our own sundials. We have explored how light travels in straight lines and how shadows are cast.
04/03/2022
Year 5 have started term 4 with a splash as 5A and 5C are now going swimming each week. Just a reminder that 5P will be going next term. This is a great way to begin our Big Question, 'What is a Healthy Life?' 5P are also learning about healthy exercise in their Tuesday PE sessions.
So far this term we have been working towards creating our own endings for the picture book story 'The Journey' by Aaron Becker. These have been going well and we hope to have some great writers after our visit for our own resident author Mrs Parkhouse. The children were keen to find out all they could from her writing experiences.
Maths this term, so far, has seen us continue to work on fractions and we are now adding and subtracting fractions with increasing skill.
Keep up the hard work, Year 5 as we are so proud of all you are achieving at the moment.
11/02/2022
Year 5 have had an amazing end to our term! We had a successful trip to Wingham Wildlife Park, taking part in a Rainforest S.O.S talk. We also had a look around at the animals to see which ones we may find in the Amazon rainforest! This trip helped us with our English and Geography. In Maths, the children have been working hard to master fractions. We have dived into equivalent fractions and how to convert between mixed and improper ones. As always, please support your children in learning their multiplication as this will help them with this topic. We have also begun investigating light in our science topic. So far, the children have recognised that light travels in straight lines and that we need a light source to be able to see. We will be continuing our light topic next term.
28/01/2022
The children in Year 5 have all been working extremely hard over the past couple of weeks. They have persevered with their learning and have tackled everything with enthusiasm.
We have begun looking at our next piece of writing, a persuasive letter. The children will be writing a letter to help save the rainforest, which links to our big question 'How can you change the world?'
In maths we have been learning about division and multiplication. We have introduced multiplying by 2 digit numbers and division using the 'bus stop' method. We are now moving on to fractions so please talk to your children about what they already know.
The children have recently compared the physical geographical features between the United Kingdom and South America. We have also made 3D maps of South America, showing the rivers, highlands and coastal plains.
14/01/2022
Year 5 have had an amazing start to 2022. We have already began to explore our big question "How can I change the world" by thinking about our goals and dreams of the future. We will have a continued focus on this as the term progresses. We have started our work on multiplication, by looking at multiplying 4 digits by 1 digit. Please continue to support your children with their multiplication at home as this will be invaluable to support with their progress. In English, we have been having fun learning about narrative poems and will be contributing our own stanzas to the poem 'Grannie' by Vernon Scannell. We have been exploring the continent South America. So far, the children have focussed on discovering facts about the different countries and their flags.
22/10/2021
The Year 5 children have worked really hard and had a lot of fun along the way this term. We have had our first school trip and the children have built on their learning from that day to write some amazing recounts. They have also shown real maturity and care for others in our discussions about rights and responsibilities during PSHE, and this has also shone through in the work which we have done through October for Black History month. In science, we have been helping Mrs Paterson to catch the 'Secret Sweet Snatcher', who has been secretly sneaking her biscuit stash, by designing alarms for her desk drawer using our new knowledge of electrical components. I wonder who the culprit will be? The children have many suspects in mind. Thank you for all of your support over this first term. We hope you all have a well deserved rest and we can't wait to begin our learning journey all over again in Term 2.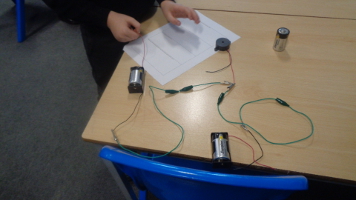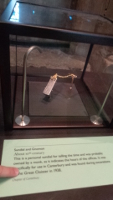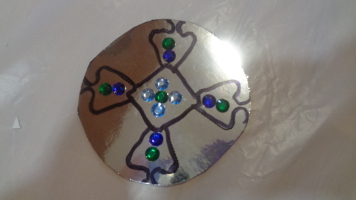 08/10/2021
Over the past 2 weeks, Year 5 have been enjoying a wide range of learning including Anglo-Saxon based learning. We had an Anglo-Saxon craft afternoon where we learnt how to sew, weave or make jewellery in the styles of the Anglo-Saxons. Our focus in maths has been on addition and subtraction to tens of thousands. While in writing, we have been preparing to write a recount of our trip to Canterbury. Yesterday, we turned our attentions to poetry for National Poetry Day where we rewrote a section of Shakespearian poetry before performing it to the rest of the class. After this we were very lucky to join a live stream with Michael Rosen, in which we listened to and joined in with some inspiring and hilarious poems.
24/09/2021
So far in English, Year 5 have been reading a book called 'There's a boy in a Girls Bathroom'. From this, we have written a narrative from the point of view of one of our characters Jeff Fishkin. Our Maths learning has consisted of us looking at place value for numbers up to 1,000,000 where we have slowly built on our previous learning from Year 4. We will begin our new topic of addition and subtraction soon. This term, some of our learning has been based around History, mainly focusing on the Anglo-Saxons settlement in Britain. The children have been engaged in this learning and were extremely excited to learn old English, writing their names in Anglo Saxon runes.