Year 3
Class 3F
Teacher: Mrs M Ford
Class 3S
Teacher: Mr D Smith
Year Group Newsletter - How Can I Change the World? - Term 3
Year Group Newsletter - Who Am I? - Term 1
Year Group Newsletter - What Makes Me Unique? - Term 2
Celebration of Work
14/01/2022
It has been fantastic to see the children return to school with such enthusiasm and excitement about their learning. We are all reading The Miraculous Journey of Edward Tulane by Kate DiCamillo which the children are really enjoying. We are using this to support our writing of a diary entry where we will write as if we were Edward as he is thrown overboard into the Pacific Ocean. In Maths we are now finishing our work on multiplication and division and we will be moving onto money which will include calculating change. Please support your child with their recognition of the different coins and paper money. The children have been eager to share their knowledge of Europe as part of our Geography lessons. We have been using Google Earth to find out more about our amazing planet.
22/10/2021
Students of Year 3 have had a FANTASTIC start to the year! After reviewing the Rainbow rules and deciding, as a class, what goals/rewards we would like to work towards, pupils have demonstrated on a daily basis what it means to be part of a GREAT team with our learning as the big focus. We are all so proud of them! Linking to our overall topic 'Ancient Greece', the students have learnt about: the historical relevance of this time period, read and listened to some Greek Myths, written a detailed description of a Mythological creature and learnt about the different roles/jobs people had during this era. During Black History Month we have completed a case study on Mary Seacole and written an informal letter highlighting some of her achievements that we have learnt in class. During science lessons we have investigated magnets and their importance in our everyday life. During maths lessons we have revisited the column method using addition and subtraction and are now focusing on multiplication and its inverse division.
08/10/2021
In Year 3, the children have been busy working on a play script. They have been creating their own dialogue for Julia Donaldson's Room on a Boom and have been understanding how to lay out their own play script and how they are able to guide the actors through the stage directions.
In maths, the children have worked hard to master addition and subtraction and are now looking closely at rounding. We are going to soon be moving onto multiplication and division, please encourage your children to log on to Times Table Rock Stars.
We are continuing our learning of Ancient Greece and have been understanding how artefacts help us understand more about the past. The children are really looking forward to their school trip to Kent where they will discover more about this amazing time in history. Please make sure that you have given permission for your child to attend through https://forms.gle/Qy15C1aqsEcVs1Nq9.
24/09/2021
In English, we have just finished our INCREDBILE character descriptions linking to our topic on Ancient Greece by creating our very own mythological beasts. Please ask your child all about the: range of sentence starters, interesting adjectives and variety of verbs they used within their writing.
In Maths, we are consolidating our understanding of the column method by adding and subtracting 3 digit numbers.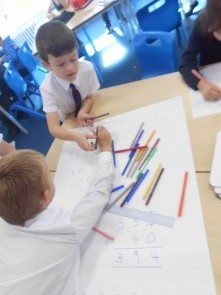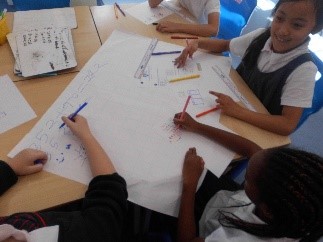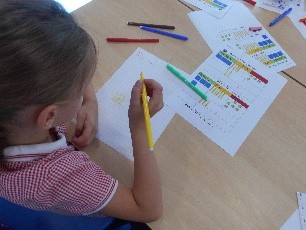 Within Science lessons we have been conducting different experiments/tests based on our topic 'Forces'.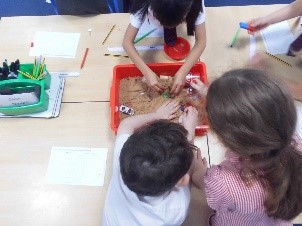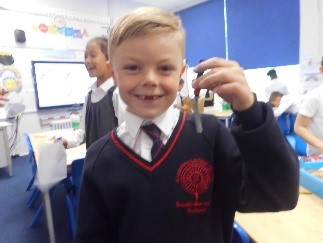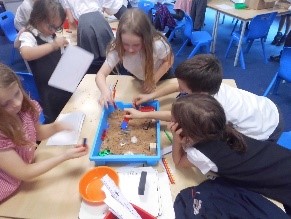 These are just a few examples of our learning so far…if you would like to know anymore please find a student from either 3S or 3F and ask them about their learning.