Year 3
Class 3F
Teacher: Mrs M Ford
Class 3S
Teacher: Mr D Smith
Year Group Newsletter - Can All Difficulties Be Solved? - Term 5
Year Group Newsletter - What is a healthy life? - Term 4
Year Group Newsletter - How Can I Change the World? - Term 3
Year Group Newsletter - Who Am I? - Term 1
Year Group Newsletter - What Makes Me Unique? - Term 2
Celebration of Work
13/05/2022
In English, Year 3 have completed their traditional tales with a twist. The children had fun reimagining Little Red Riding Hood and came up with some creative and unique stories. The children will next be looking at information texts and, using their learning of the skeletal system, they will be creating to create their own information booklet.
We are focusing on time during our maths lessons. We have been able to read: o'clock, half past, quarter to, quarter past and are becoming more confident in reading the time in 5 minute intervals. We have also had a lot of fun studying Roman numerals and how they link to our learning of time. Please continue practising your times tables with the students. If they have mastered their 2s, 5s and 10s, please focus on their 3s, 4s and 8s.
The children have been continuing to learn more about the human body and how it works. We have been looking closely at different skeletons and their purpose, spent time learning about our teeth and the functions of the different teeth. Their understanding of teeth will help the children with their understanding of the digestive system which we will look at next week.
In our History lessons, the children have been discovering all about the Shang dynasty. They have looked carefully at where in the world this ancient Chinese civilisation was situated and when this particular dynasty existed. They have discussed the beliefs of the period and what was believed to happen in the after life. The children have been able to understand how we are able to know so much about the Shang through the artefacts and writings from this time.
This term the students have been thoroughly enjoying learning how to play cricket with our Sports Coaches on a Wednesday. They have been: practising their ball throwing and catching skills, studying batting and fielding techniques to improve their skills. On Mondays the students have been completing Zumba classes with their teachers. This has been a variety of intensive exercise movements to complete within different time periods, with dance/fitness music to help us maintain a steady pace.
29/04/2022
Year 3 have been having fun exploring the story of Little Red Riding Hood. The children have rewritten the story and have included correctly punctuated dialogue whilst giving the story their own slightly different, unique twist. In Maths, the children have been continuing their learning of fractions, building upon and reinforcing their understanding of this important and difficult concept. Please continue to support your children with their learning of multiplication which will help them with their understanding of this topic. The children have enjoyed our new topic Animals including Humans in Science. So far in our lessons, we have been finding out all about skeletons including the different types and their purpose. In PE, the children have had great fun learning about cricket with our PE coach Robbie. Please note that our PE days are now Monday and Wednesday and so the children will need to come to school in the correct PE kit for these days with Wednesday's lesson being on the field.
01/04/2022
Year 3 have had a busy week learning about fractions and beginning to understand fractions as decimals. They will continue this learning after the break to ensure that they are confident mathematicians with this area of maths. In Geography, the children have continued their learning of biomes and specifically biomes in Europe. This week we have focused on Temperate Forests biomes and the children discovered what makes this biome unique. The children now finished their instructional writing on How To Wash a Bee which was inspired by their Science topic, Plants. They came up with some fantastic ideas on the best ways to clean a grubby bee and, using the features of instructions, wrote an effective information text. In our PE lessons we have strengthened our striking and fielding skills and put these to the test by participating in rounders games.
18/03/2022
This week we have finished our Narratives (based on our class book Journey) and are now focusing on instructions. We are studying; the features of instructions, imperative verbs, chronological ordering of events and using the 2nd person perspective. All with the end goal to write our very own OUTSTANDING examples of instructions.
Both classes are thoroughly enjoying our class book, The Explorer and are using their inference and understanding of the text to predict what and why events are happening and discussing the author's use of language and writing techniques.
In maths, we have used play dough to help reinforce our understanding of fractions and have explored equivalent fractions practically using different sized rods. Over the coming weeks we will be looking at, tenths and tenths as decimals as well as adding and subtracting fractions. A solid understanding of multiplication really supports children in their learning of fractions so please continue to help your child.
04/03/2022
As part of the Whole School Writing Project, Year 3 have been looking at the picture book Journey by Aaron Becker. The children have become authors as they have created narrative for this wordless book. Both Mr Smith and Mrs Ford could not be prouder of the vocabulary and the figurative language the children have chosen to use.
In Maths, the children are continuing to move forward with their learning of measurements and are now beginning to calculate the perimeter for a range of shapes. We will soon be moving onto fractions where a good knowledge of multiplication will help the children master this topic.
In PE, the children are beginning to be introduced to the game of rounders. We have begun by starting to understand the rules of the game and have been practising our throwing skills.
The children in Year 3 are working incredibly hard - they are all superstars!
11/02/2022
Year 3 had great fun on Tuesday with their Culture Day where they were able to build on their Geography learning. The children created art laying on their backs as if they were Michelangelo, became sculptures as they made well-known European landmarks from clay and thoroughly enjoyed sampling a Dutch breakfast of HagelSlag.
In English, the children have continued to think about the text The Miraculous Journey of Edward Tulane and have used this to write their own Haiku poems. In maths, the children have continued their learning of statistics where the children have persevered in creating their own bar graphs.
28/01/2022
Year 3 have worked hard to write some amazing diary entries as if they were Edward Tulane. The children have strived to use sophisticated language to describe the events of Edward's life - well done to all of Year 3!
In maths, the children have now begun the topic of money. We have been looking at adding and subtracting money and will move onto calculating change and problem solving. Please continue to support your child with money at home.
The children have been excited to begin their European fact file in geography. Over the next few lessons, the children will use atlases, webpages and non-fiction books to gather information about their chosen country and use this information as well as their creative skills to design their fact file.
14/01/2022
It has been fantastic to see the children return to school with such enthusiasm and excitement about their learning. We are all reading The Miraculous Journey of Edward Tulane by Kate DiCamillo which the children are really enjoying. We are using this to support our writing of a diary entry where we will write as if we were Edward as he is thrown overboard into the Pacific Ocean. In Maths we are now finishing our work on multiplication and division and we will be moving onto money which will include calculating change. Please support your child with their recognition of the different coins and paper money. The children have been eager to share their knowledge of Europe as part of our Geography lessons. We have been using Google Earth to find out more about our amazing planet.
22/10/2021
Students of Year 3 have had a FANTASTIC start to the year! After reviewing the Rainbow rules and deciding, as a class, what goals/rewards we would like to work towards, pupils have demonstrated on a daily basis what it means to be part of a GREAT team with our learning as the big focus. We are all so proud of them! Linking to our overall topic 'Ancient Greece', the students have learnt about: the historical relevance of this time period, read and listened to some Greek Myths, written a detailed description of a Mythological creature and learnt about the different roles/jobs people had during this era. During Black History Month we have completed a case study on Mary Seacole and written an informal letter highlighting some of her achievements that we have learnt in class. During science lessons we have investigated magnets and their importance in our everyday life. During maths lessons we have revisited the column method using addition and subtraction and are now focusing on multiplication and its inverse division.
08/10/2021
In Year 3, the children have been busy working on a play script. They have been creating their own dialogue for Julia Donaldson's Room on a Boom and have been understanding how to lay out their own play script and how they are able to guide the actors through the stage directions.
In maths, the children have worked hard to master addition and subtraction and are now looking closely at rounding. We are going to soon be moving onto multiplication and division, please encourage your children to log on to Times Table Rock Stars.
We are continuing our learning of Ancient Greece and have been understanding how artefacts help us understand more about the past. The children are really looking forward to their school trip to Kent where they will discover more about this amazing time in history. Please make sure that you have given permission for your child to attend through https://forms.gle/Qy15C1aqsEcVs1Nq9.
24/09/2021
In English, we have just finished our INCREDBILE character descriptions linking to our topic on Ancient Greece by creating our very own mythological beasts. Please ask your child all about the: range of sentence starters, interesting adjectives and variety of verbs they used within their writing.
In Maths, we are consolidating our understanding of the column method by adding and subtracting 3 digit numbers.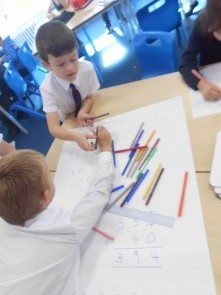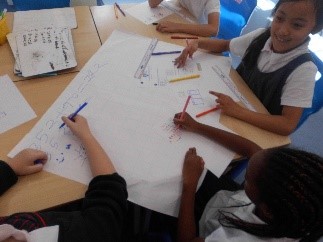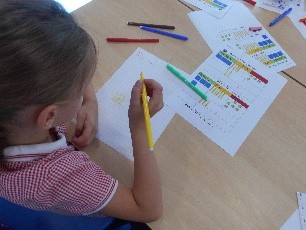 Within Science lessons we have been conducting different experiments/tests based on our topic 'Forces'.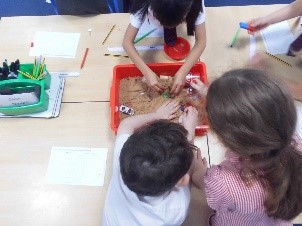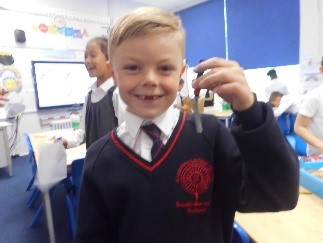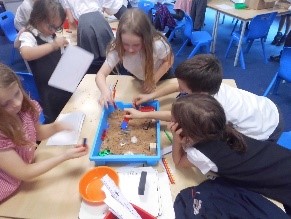 These are just a few examples of our learning so far…if you would like to know anymore please find a student from either 3S or 3F and ask them about their learning.