Year 2
Class 2Wa
Teacher: Miss E Walter
Class 2Wr
Teacher: Miss K Wright
Year Group Newsletter - Who Am I? - Term 1
Year Group Newsletter - What Makes Me Unique? - Term 2
Celebration of Work
22/10/2021
All of the year two staff are really proud of the children for how well they have settled back into school and how hard they have been working. The children have taken part in a range of learning activities such as our Superhero experience day where they defeated the evil pea as well as throwing water balloons at Miss Walter to find out which materials are waterproof! We are extremely proud of the children's determination towards our maths learning where we are working on mastering the column method to add and subtract accurately. We will continue this learning into Term 2 so please ask your child questions about it. Our Jigsaw lessons this term have focused on the children's rights and responsibilities as learners and we are impressed with how well the children have shown us this. They have persevered with being independent, resilient and self reflective on their choices and learning. Well done Year 2, keep up the fantastic work.
08/10/2021
Year 2 had a fantastic time dressing up for our superhero experience day! The children made masks, designed their own Supertato and raced around an obstacle course to catch the evil peas. This week, the children have been creating instructions for catching a villain in writing and have used their experience of being a superhero to help them create a foolproof plan! During maths, the children have started to explore addition, showing their knowledge of number bonds to increasingly large numbers. We have also been looking at the life of Katherine Johnson as part of black history month and the children have linked this learning to our big question of 'Who am I?' by discussing qualities that they should be proud of in themselves.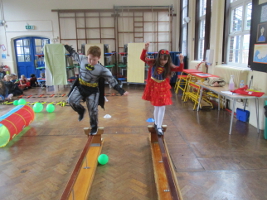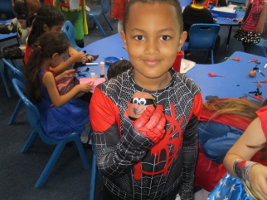 24/09/2021
Year 2 have settled in to school well and have had a fantastic start to the year. We have started the term by looking at the text 'Traction Man' and the children have enjoyed the story. They have created a description of Traction Man using a number of exciting adjectives. In Maths this week, we have been exploring the place value of 2-digit numbers and have been using a range of manipulatives and pictures to show numbers in different ways. The children have also enjoyed learning about the history of Maidstone and have created their own coat of arms for the town.