Year 2
Class 2Wa
Teacher: Miss E Walter
Class 2Wr
Teacher: Miss K Wright
Year Group Newsletter - Can All Difficulties Be Solved? - Term 5
Year Group Newsletter - What is a healthy life? - Term 4
Year Group Newsletter - How Can I Change the World? - Term 3
Year Group Newsletter - Who Am I? - Term 1
Year Group Newsletter - What Makes Me Unique? - Term 2
Celebration of Work
13/05/2022
Over the last two weeks, the children have been working super hard at a range of different things.
In Maths, the children have now finished their learning of time and have moved on to measuring height and length. We have had lots of fun going around the classroom and measuring things in centimeters or meters. Even though we have finished looking at time. Please continue to practice this at home!
In English, we have been using our imaginations to write a set of instructions for 'How to fix a rocket or spaceship.' The children had the opportunity to show off their understanding of command sentences and time adverbials. We have just begun to look at the features of an information text so that the children can write one all about their very own planet.
In our afternoon learning, our Science learning has enabled us to understand how animals get their energy through a range of food chains. In History, the children learnt key facts about Helen Sharman and why she was an important astronaut.
Our secret agent missions have got off to a fantastic start and the children are showing fantastic perseverance towards them. Last week, one of our missions was to take a partner around an obstacle course whilst blindfolded! Due to the Year 6 SATs, secret agent missions have been held this week. They will continue next week until the end of term.
Our reading this week has been based upon the book 'Hidden figures'. This has tied in with our big question: Can all difficulties be solved?
29/04/2022
Welcome back to Term 5! Over the Easter break 2WR's caterpillars became beautiful butterflies. In the last 24 hours. 2Wa's caterpillars have started to become butterflies too! Over the past couple of weeks, we have been expanding our knowledge of time in maths, exploring what the minute and hour hand mean at different points on the clock. We have also been working hard to write a description of space inspired by our reading book, 'The darkest dark'. The children have focused on using exciting adjectives and starting our sentences in a variety of ways to create fantastic descriptions. From next week, we will be starting our exciting special agent training and we encourage all children to come to school well rested and ready to participate in the activities.
01/04/2022
This week we have seen some exciting changes to our class caterpillars. They have grown a lot and 2Wr's have started to form chrysalises. 2Wa's caterpillars are a bit behind but we are sure they will form soon! We have started to write shape poems about caterpillars and butterflies and have been trying to use lots of descriptive vocabulary. Over the last week we have also been continuing to explore shape. We now know the key features of 2D and 3D shapes. Both Year 2 classes are excited to be finishing the term with their dojo rewards.
18/03/2022
Year 2 have had a very special delivery this week - caterpillars! Each class has their own caterpillars to look after and keep safe. At the moment it is hard to believe these tiny creatures can become beautiful butterflies.
In our writing, we are reviewing our learning of conjunctions and questions so that we can include them in our letter to 'Greenpeace'.
In maths, we have now finished our learning about money and how to make different combinations. We are now moving onto looking at the properties of 2D and 3D shapes.
04/03/2022
Over the last two weeks Year 2 have been busy recapping our knowledge of the four operations in maths. In Writing, we have been building up to writing our own diary entry as if we have entered our own imaginary world like in the story 'Journey'.
This week, all of the adults in the year group were super proud of the children's behaviour whilst on a trip to Kent Life.
11/02/2022
Year 2 have had a fantastic end to Term 3. We have continued to observe the plants that we planted on our experience day. They have grown lots! We have ended our learning about 'How can I change the world?' by celebrating mental health week. We have looked at how our emotions can affect ourselves and others. This term, the children have produced some wonderful work. We are particularly proud of the children's own versions of Jack and the beanstalk where Jack met chocolate monsters and even dragons! As well as this the children have persevered with their fractions learning. Well done Year 2, have a lovely half term.
28/01/2022
The children in Year 2 have worked very hard over the last couple of weeks. Everybody really enjoyed our plant experience day last Friday. The children took part in making their own flower pots out of paper and then had a go at planting a seed. We have our seeds by the window so that they get lots of light and the children will monitor how they grow over the rest of the term.
Our science day has also led into our class writing, as we have looked at different versions of 'Jack and the beanstalk', ready to write our own twisted tale. We have continued to read 'The boy who grew dragons' as our class text and the children are enjoying the story immensely. Please continue to read with your child at home for at least 10 minutes each day.
14/01/2022
Welcome back to Term 3. Year 2 have had a brilliant return to school. In the last week, we have been looking at the big question 'How can I change the world?. Please discuss this with your children at home as they have some brilliant ideas! This term, we are looking at multiplication and division in maths and the children have made a great start practising arrays using cubes and pictures. We have started our new class novel, 'The boy who grew dragons'. The children are really enjoying the story and learning about dragons. Please continue to read for 10 minutes daily with your child as this makes a big difference to their learning. Keep an eye out for our amended date for our plant experience day.
22/10/2021
All of the year two staff are really proud of the children for how well they have settled back into school and how hard they have been working. The children have taken part in a range of learning activities such as our Superhero experience day where they defeated the evil pea as well as throwing water balloons at Miss Walter to find out which materials are waterproof! We are extremely proud of the children's determination towards our maths learning where we are working on mastering the column method to add and subtract accurately. We will continue this learning into Term 2 so please ask your child questions about it. Our Jigsaw lessons this term have focused on the children's rights and responsibilities as learners and we are impressed with how well the children have shown us this. They have persevered with being independent, resilient and self reflective on their choices and learning. Well done Year 2, keep up the fantastic work.
08/10/2021
Year 2 had a fantastic time dressing up for our superhero experience day! The children made masks, designed their own Supertato and raced around an obstacle course to catch the evil peas. This week, the children have been creating instructions for catching a villain in writing and have used their experience of being a superhero to help them create a foolproof plan! During maths, the children have started to explore addition, showing their knowledge of number bonds to increasingly large numbers. We have also been looking at the life of Katherine Johnson as part of black history month and the children have linked this learning to our big question of 'Who am I?' by discussing qualities that they should be proud of in themselves.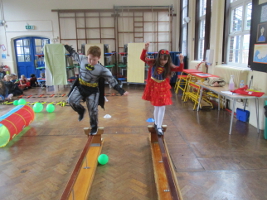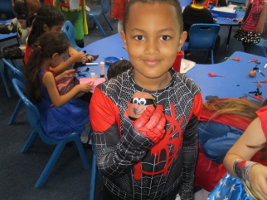 24/09/2021
Year 2 have settled in to school well and have had a fantastic start to the year. We have started the term by looking at the text 'Traction Man' and the children have enjoyed the story. They have created a description of Traction Man using a number of exciting adjectives. In Maths this week, we have been exploring the place value of 2-digit numbers and have been using a range of manipulatives and pictures to show numbers in different ways. The children have also enjoyed learning about the history of Maidstone and have created their own coat of arms for the town.