Year 1
Class 1B
Teacher: Ms L Brough & Miss E Ballard
Class 1H
Teacher: Miss Z Huggins
Year Group Newsletter - How Can I Change the World? - Term 3
Year Group Newsletter - Who Am I? - Term 1
Year Group Newsletter - What Makes Me Unique? - Term 2
Welcome to Year 1 Classes!
Year 1 Staff
Ms Brough

My name is Ms Brough and I have been part of the South Borough team since September 2019. I am currently teaching Year 1, but have taught all Primary Year groups, since qualifying 10 years ago. I love teaching Maths, English and Science, but, when at home, I enjoy reading, walking and art, particularly sketching and watercolour painting.

I have 3 grown up children and 2 granddaughters, who I love very much. Family is extremely important to me.

Miss Ballard

Information coming soon.

Miss Huggins

Information coming soon.

Mrs Mitchell

My name is Mrs Mitchell. I have been part of the South Borough team for over fourteen years. I have several years of experience supporting within the Early Years and I have gradually progressed throughout Key Stage 1. I am currently a teaching assistant in Year 1 alongside Ms Brough. I love to teach all subjects at South Borough, but in particular Art. I also love to do outdoor learning.

When I am not in school, I am scout leader in a local village. I also love to go on long walks with my dogs Holly, Daisy and Cody and when time allows I make and decorate celebration cakes for family and friends.

Mrs Walker

Information coming soon.

Mrs Rammandala

Hello, my name is Mrs Rammandala and I have been a Teaching Assistant at South Borough for 4 years working in Nursery and Reception. It is a pleasure working at South Borough and to be able to interact with children on a daily basis. It is a very rewarding experience.


When I am not at school I like to spend time with my family, going for walks and reading books.
Useful Websites for Learning:
Let's Get Fit - Count to 100 - Jack Hartmann
Celebration of Work
14/01/2022
Year 1 have had a roarsome start to the new term! We have been learning all about dinosaurs.This week, we had a special dinosaur experience day, where we had a virtual visit to Maidstone Museum and learnt all about fossils and how they were formed. In English, we have been reading Tyrannosaurus Drip. We have been practising our descriptive language by designing our own dino habitats. In Maths, we have been working with numbers to 20, comparing them in different ways. In Science, we have been learning about winter and have been spending time outside exploring ice. We found ice triangles, rectangles and even ice in the shape of dinosaur teeth! We have compared winter in England and Finland, where it is much colder. We have been learning about the northern lights and created some artwork with chalk showing the magical dancing colours in the dark night sky.
22/10/2021
We would like to take this opportunity to say that the children have all been Superheroes, since returning to school in September. They have settled extremely well into Year 1, showing great resilience and amazing learning! The entire cohort have shown excellent maturity adjusting to KS1, as well as keeping their energy and enthusiasm for learning. Our Maths learning has focused on number and we have begun to partition numbers using part-whole models. Beginning with the book 'The Colour Monster' we explored different feelings and what might make us feel different emotions. In Jigsaw lessons, we were able to familiarise ourselves with the Rainbow Rules, what we like about learning at South Borough and how we can help to create that environment for everybody. The children have embraced our Superhero topic, which culminated with our Superhero Experience Day which was based on the text, 'Traction Man'. We explored the different environments that Traction Man found himself in and described the different settings, as well as his outfits, using adjectives. We are very proud of you all Year 1 and are looking forward to Term 2.
08/10/2021
This week in Year 1 we have been comparing numbers in Maths using more than, less than and equal to. We've completed number tracks finding missing numbers and building number lines of our own, in order. In light of National poetry day, we have focussed on reciting Superworm using actions and changing our tone of voice for different characters. In the Broader Curriculum for science we have been looking at everyday materials and objects and using our knowledge of materials to know what certain objects are made of. In phonics we have moved on to Set 3 sounds and have had fun with Fred thinking of words we know with our key sounds. We have also then gone on to practice some of these words in handwriting, writing them in different materials like shaving foam and sand!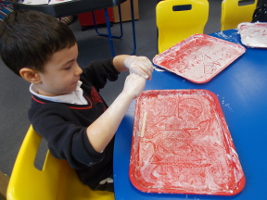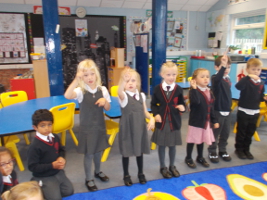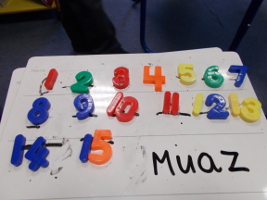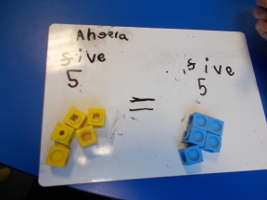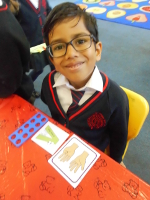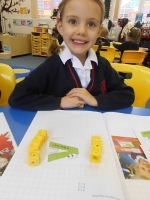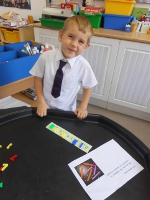 24/09/2021
Over the past 2 weeks in Year 1 in Maths, we have been recapping counting backwards and forwards between 0 and 10 and moved on to comparing numbers and objects between 0 and 20, to represent numbers in different ways! In English we have been making sure we can write a full sentence and moved on to retelling the story of Superworm! We have been acting, making missing posters and miniature books! For our continuous provision we have been making superhero gear including masks and cuffs with logos matching our super powers as well as puppets for Juniper Jupiter and Superworm. We've begun looking at different materials in Science and thinking about what items we know that go into different material groups.