Celebration of Work
14/01/2022
Happy New Year! We hope you all had a wonderful half term. Welcome to our new starters. They have settled well into the Nursery routine. Our topic this term is transport and we have talked about our experiences with transport. Our story this week is, 'Room on the Broom'. We are learning to retell the story using masks and stick puppets. In Phonics we have looked at rhyming words and the initial sound in words. In Mathematics we have been changing amounts (numbers) by adding and taking away using cups of tea, ordering food at a restaurant and putting children/ animals on a broom. Our big question this term is "How can I change the world?" We will be talking about what we can do to make the world a better place for us to grow. We've been discussing our goals and dreams and we'll work hard to achieve them.
22/10/2021
Nursery children have shown amazing courage and attitude towards either starting new or returning to Nursery. I am very proud with how confidently they have settled into their new routine. They have explored new environments, if new to Nursery, or have shown other new children our learning environments. We have been kind and respectful of others and our learning resources. We have worked really hard to follow the rainbow rules and achieve our dojo target! We have focused on the stories of 'Our Class is a Family', 'From Head to Toe' and 'The Tiger Who Came to Tea'. We have had many discussions about these stories and our life experiences such as who is in our family, what do we celebrate and how are we the same or different. For Black History Month we have learned about Martin Luther King, his dream and the importance of his speech. We have discussed our dreams and made our very own "Dream Jars". Nursery children have been fantastic at practising counting to 10, counting out a number of objects, naming 2D shapes, finding objects which are the same or different, and matching the same objects. Well done Nursery for a successful Term 1!
08/10/2021
Our story this week is From Head To Toe, by Eric Carle.
https://www.youtube.com/watch?v=9xxyZSdYEmM
"Can you wave your arms like a monkey, clap your hands like a seal or stomp like an elephant? Yes, you can! Are you ready? Here we go! Move yourself From Head to Toe."
This lovely book has encouraged Nursery class children to practise different movements, as well as learning a variety of animal names.
'From Head To Toe' has helped children understand and answer questions and give them the confidence to participate in an activity and to achieve particular skills. What does an elephant do? It stomps its foot. Can you? Nursery children have really enjoyed learning about gross motor movement and learning new physical skills and applying these skills both to their indoor and outdoor learning. Throughout this interactive book, the animals of 'From Head to Toe' invite young readers to copy their antics as they play. Have a go at home with your child/ren!
In Mathematics we have been counting aloud to 10 and giving out a number of objects such as 4 bananas, 3 pencils, 5 tissues. When we count we make sure we count one at a time, starting with number 1.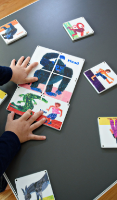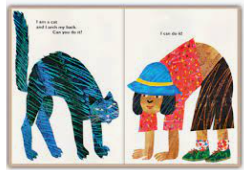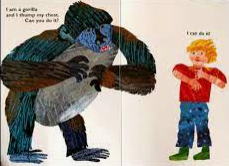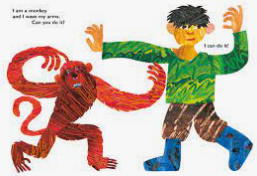 24/09/2021
We have read the story of, 'Our Class is a Family' written by Shannon Olsen. It is a story about how, "Family isn't always your relatives. It's the ones who accept you for who you are. The ones who would do anything to see you smile, and who love you no matter what." We have talked about who is in our family, if we have any pets and any events or experiences we could remember. New Nursery children have explored inside the classroom and outdoors. Older children in Nursery have helped other children settle into our routine by playing together and showing children what to do such as when it is tidy up time, home time and how to wash hands.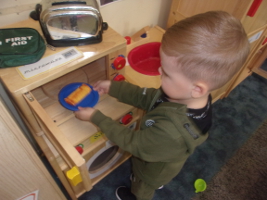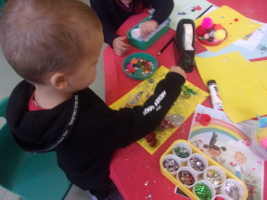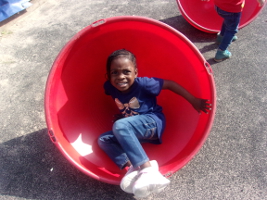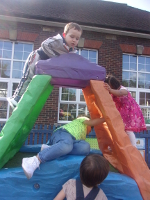 We have listened to and talked about environmental and instrumental sounds. We have looked at the sizes of big, medium and small using objects from inside and outside the classroom and also using the interactive whiteboard.