Civic and Freedom parade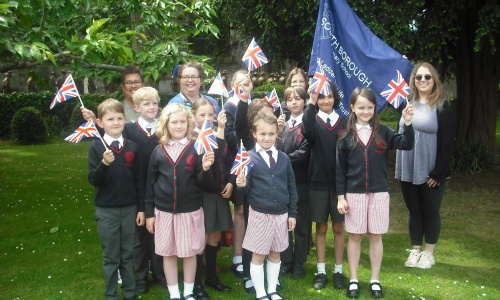 On Saturday 21st May, children from the 'Performing Arts' club took part in the Civic and Freedom Parade.
Being the only school in Maidstone to participate in this spectacular event, South Borough Primary celebrated along with the new Mayor of Maidstone, the 36 Royal Engineers Regiment and the Queen's Gurkha Engineers freedom of the town.
Children and their parents met with Mrs Samways, outside the Hazlitt theatre at 11am. The children looked very smart in their South Borough Primary School uniform. Anna in Year 6 carried the school standard flag in a harness around her waist, while the other children waved Union Jack flags.
The children were extremely excited especially when they saw the soldiers and the Mayor. The parade started at 11.30, marching through Week Street, down along the high street and on to All Saints church. The children marched to the sounds of the 'Royal Engineers Band' and the crowds erupted in applause.
Mrs Samways guided the Performing arts children at the end of the parade to where they could greet the new Mayor, Cllr Derick Mortimer.
The Mayor arrived in a Landau carriage (made in the 18th Century) pulled by two beautiful black horses. The carriage stopped right next to the children and the Mayor called out saying he was impressed by their flag waving. The children continued to wave their flags as the Mayor entered All Saints Church.
Mrs Samways was very proud of all the Performing Arts children who participated in this Maidstone traditional event. They gave up their Saturday morning, in their school uniform to represent South Borough Primary School.
A huge thank you to Mrs Hunt, Miss Monticelli and our amazing parents/carers who also gave up their Saturday morning to support their children and South Borough.