Year R
Green Class
Teacher: Mrs Hunt
Red Class
Teacher: Mr Blanco
Welcome to Reception Classes!
Photos of Green Classroom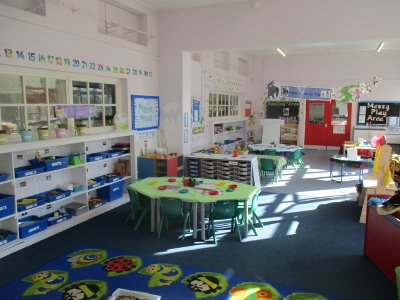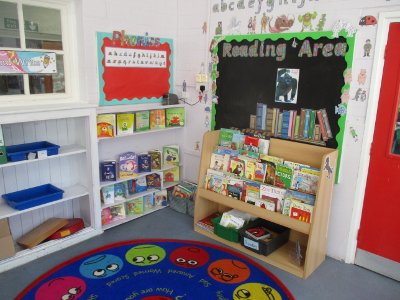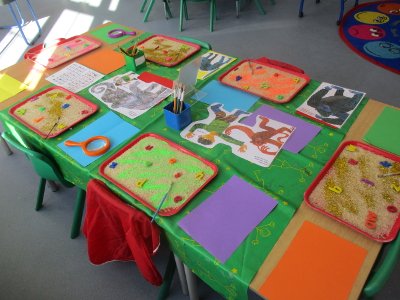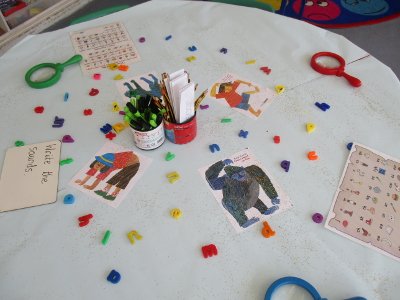 Photos of Red Classroom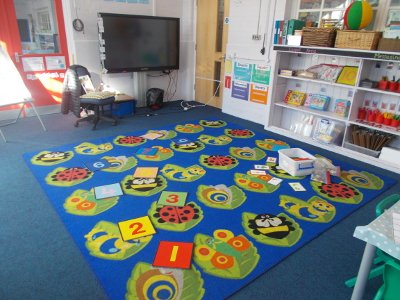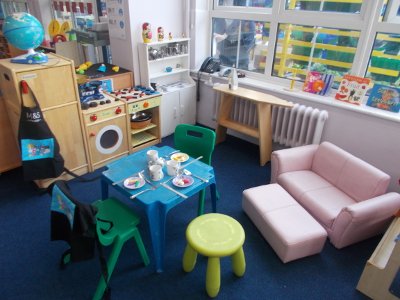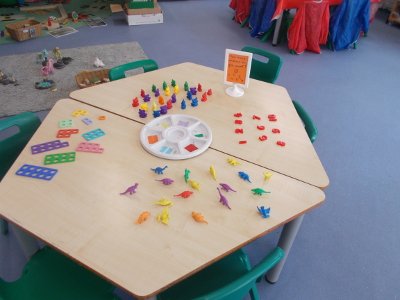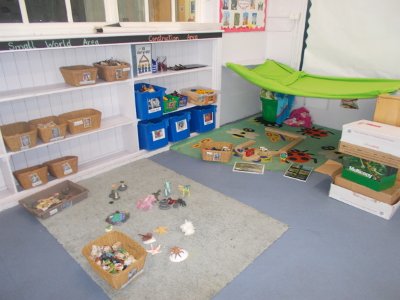 Early Years Foundation Stage (EYFS) Outside Area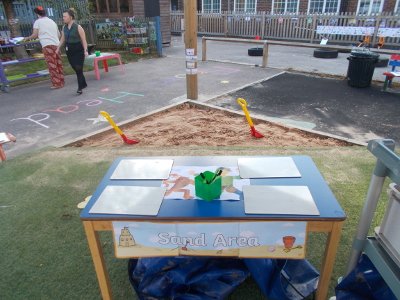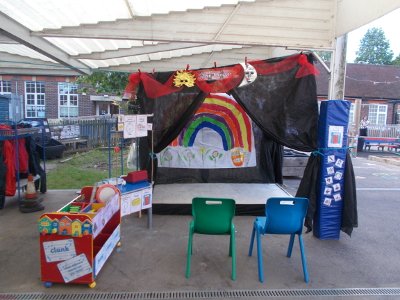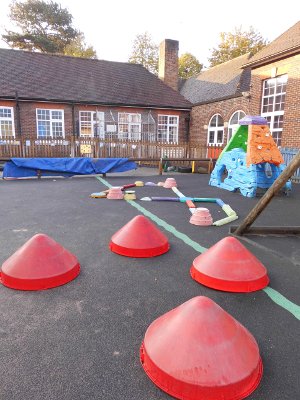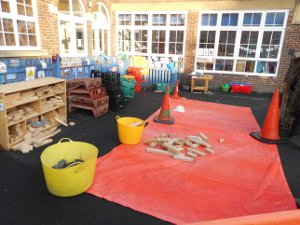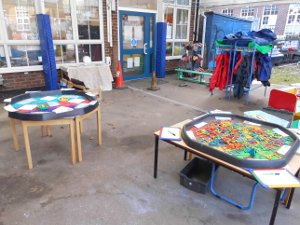 Reception Staff
Mrs Hunt

My name is Mrs Hunt. I am the Early Years Foundation Stage and Year 1 Lead Teacher for South Borough. Over the 6 years, I have taught in Nursery, Reception and Year 1. I am currently teaching in Reception Green class. I have a fantastic team around me who work very hard and are always there to support my class and I. I love learning through play with our children, both indoors and outdoors - especially messy play areas, woodwork and role play.

I am also the phonics lead for our school, it never ceases to amaze me how children learn phonemes and graphemes and then blend and segment to read and write. I am honoured to be leading this important, yet wonderful subject!

I believe a strong partnership with parents and carers is key to a successful start to school life for our youngest pupils. I am a parent myself and I enjoy spending time with my husband, 3 children, other family members and all my friends. I love eating out, having BBQs in the summer, playing indoor badminton and outdoor tennis when the weather is fine. When I have time, I enjoy reading about facts and real life events such as history books and autobiographies and watching films. I have 2 cats called Alice and Tabitha and many hedgehogs and foxes who visit my garden. I love to travel, visiting new places and meeting new people. One day, I would like to teach abroad. But for now, I am very happy and proud to be teaching at South Borough Primary School.

Mr Blanco

Hi, I am Mr Blanco and I teach Reception Red class. I truly believe in the power of learning through play so we have lots of fun in Red class. I also enjoy make believe and pretend play, so your children will probably go home telling you about all the adventures that they have had during the day. I like "messaging and secret symbols" so you might find your children going home with hidden messages or they may ask you to press buttons for "silly things" to happen.

I think that outdoor learning is as important as indoor learning, so we will be going outside all year round regardless of the weather, so please provide the right clothes for your child.

During my free time, I like going out for walks, playing badminton and football. I love cooking and playing the guitar when I am at home. I also like travelling and visiting new places and learning about new cultures so every half term I try to go to a new place where I have never been before.

Mr Marsh

My name is Mr Marsh. I have been part of the South Borough team for over six years. I have several years of experience within the Early Years but have supported in various year groups across the school. I love to teach all subjects at South Borough, but in particular Phonics because supporting children with letters and sounds allows them further discovery in their own unique learning journey.

When I am not in the classroom, I am kept busy with administration duties including updating the school website, twitter, creating posters, banners, signs and labels throughout the whole school. Alongside this, I have designed the newsletters, core value certificates, stickers, planners and much more!

When I am not in school, I enjoy visiting new places and going to tourist attractions. My favourite is theme parks and I have been on a number of different roller coasters, rides and themed experiences. I also love using technology and digital photography.

Mrs Field


Hello, my name is Mrs Field and I have been a Teaching Assistant at South Borough for 4 years. It is my first year in Reception and my second year supporting Mrs Hunt.

I love working at South Borough because everyone is very friendly and we are always helping each other. The best part of my job is listening to children read and supporting Phonics, watching the children grow throughout the year is very rewarding.

When I am not at school I like to bake cakes, read, watch football and go for walks with my family.

Mrs Rammandala

Hello, my name is Mrs Rammandala and I have been a Teaching Assistant at South Borough for 4 years working in Nursery and Reception. It is a pleasure working at South Borough and to be able to interact with children on a daily basis. It is a very rewarding experience.

When I am not at school I like to spend time with my family, going for walks and reading books.
Useful Websites for Learning:
Banana Banana Meatball - Blazer Fresh
Let's Get Fit - Count to 100 - Jack Hartmann
Celebration of Work
16/07/2021
This week we have been reading about a very hungry caterpillar.
https://www.youtube.com/watch?v=75NQK-Sm1YY
A small caterpillar emerges from an egg and begins eating everything in sight.
Finally, it is no longer hungry and no longer small. The big, fat caterpillar builds a cocoon around himself and finally emerges as a beautiful butterfly.
In fact, what Eric Carle calls the cocoon is really the pupa or chrysalis.
Children have enjoyed cutting strips of paper and making paper chain caterpillars.
In Maths, children have counted eggs on a leaf in 2's, 5's and 10's. Also doubling, sharing and halving different foods, spots and ladybirds.
18/06/2021
In Reception we have been learning all about "The Snail and The Whale". The story has brought so many learning opportunities into our classrooms. We have talked about different parts of the world and where we would go if we could travel wherever we would like. We have also enjoyed creating the characters from the story to retell it ourselves and act it out.
We have learnt about snails habitats and what they need to live in order to create a home for our "adopted snails". We loved looking at them and even touching them. We will be releasing them into our garden so that they are free again and hopefully we will be able to see them around while having as much fun as we do at school.
In Maths we have been learning about doubling, halving and sharing using different resources.
Also we have been enjoying the really nice hot weather and have improvised some paddling pools to chill and refresh ourselves while learning. There has been lots of talking and learning opportunities while having fun with the water.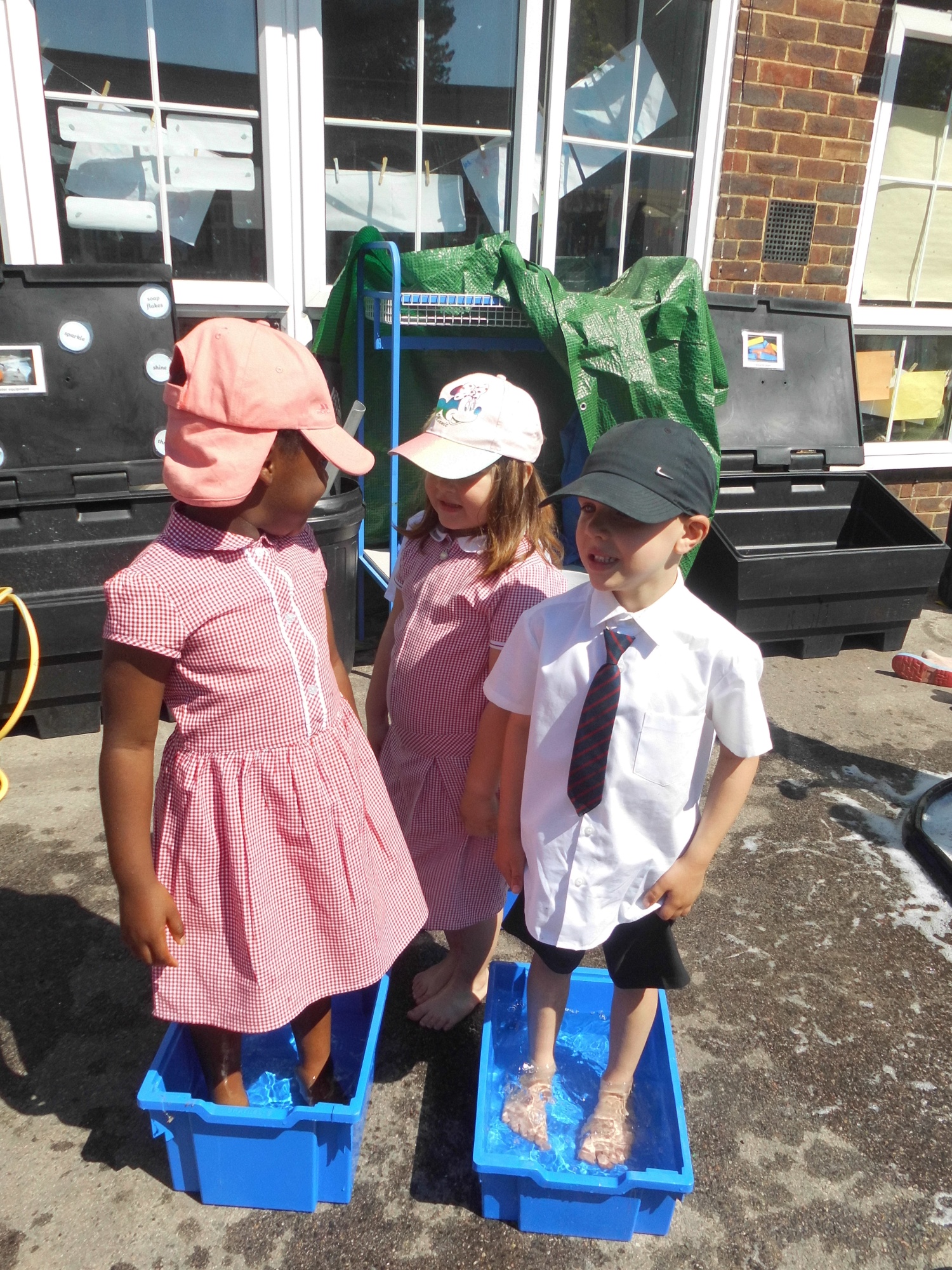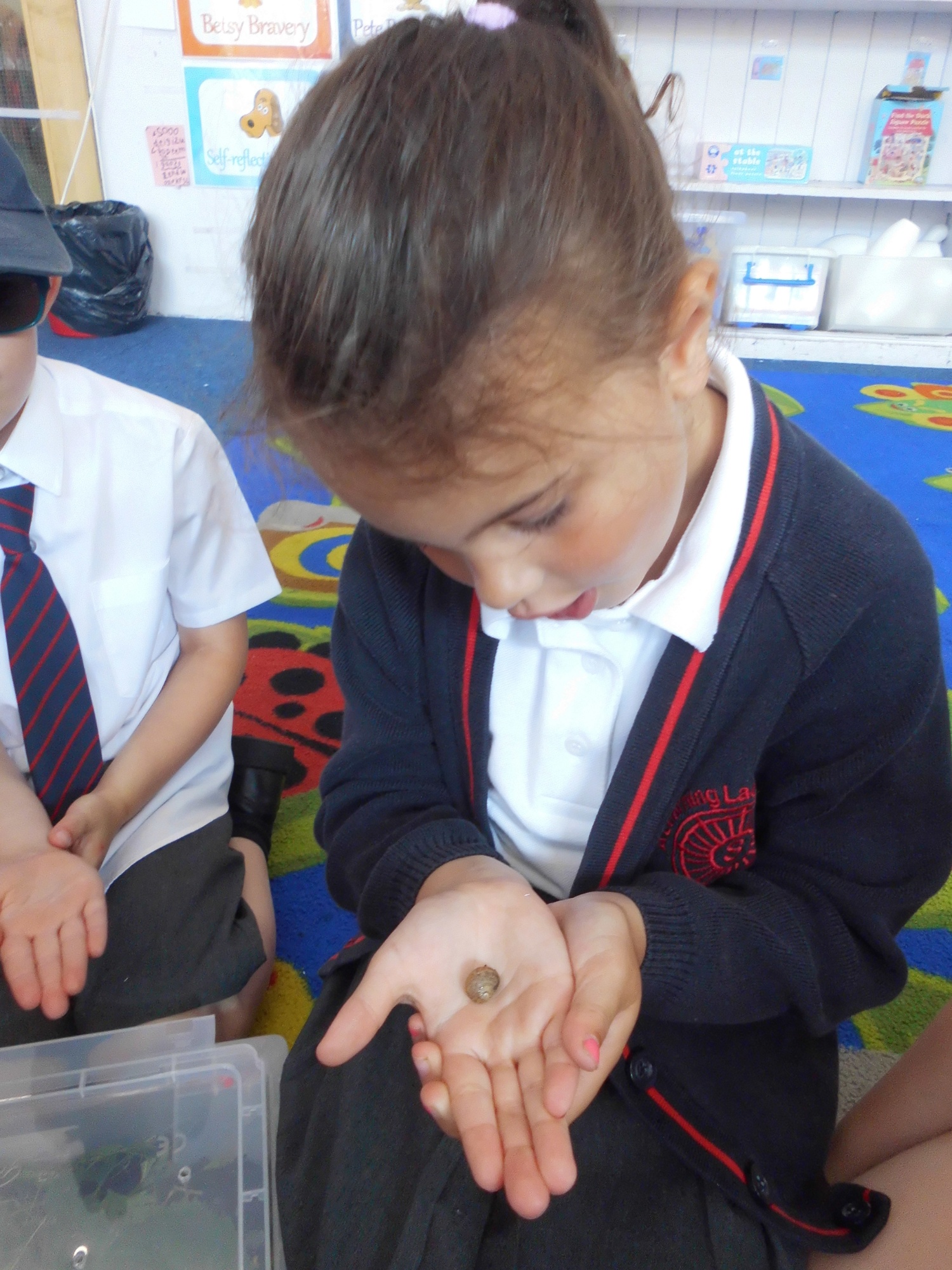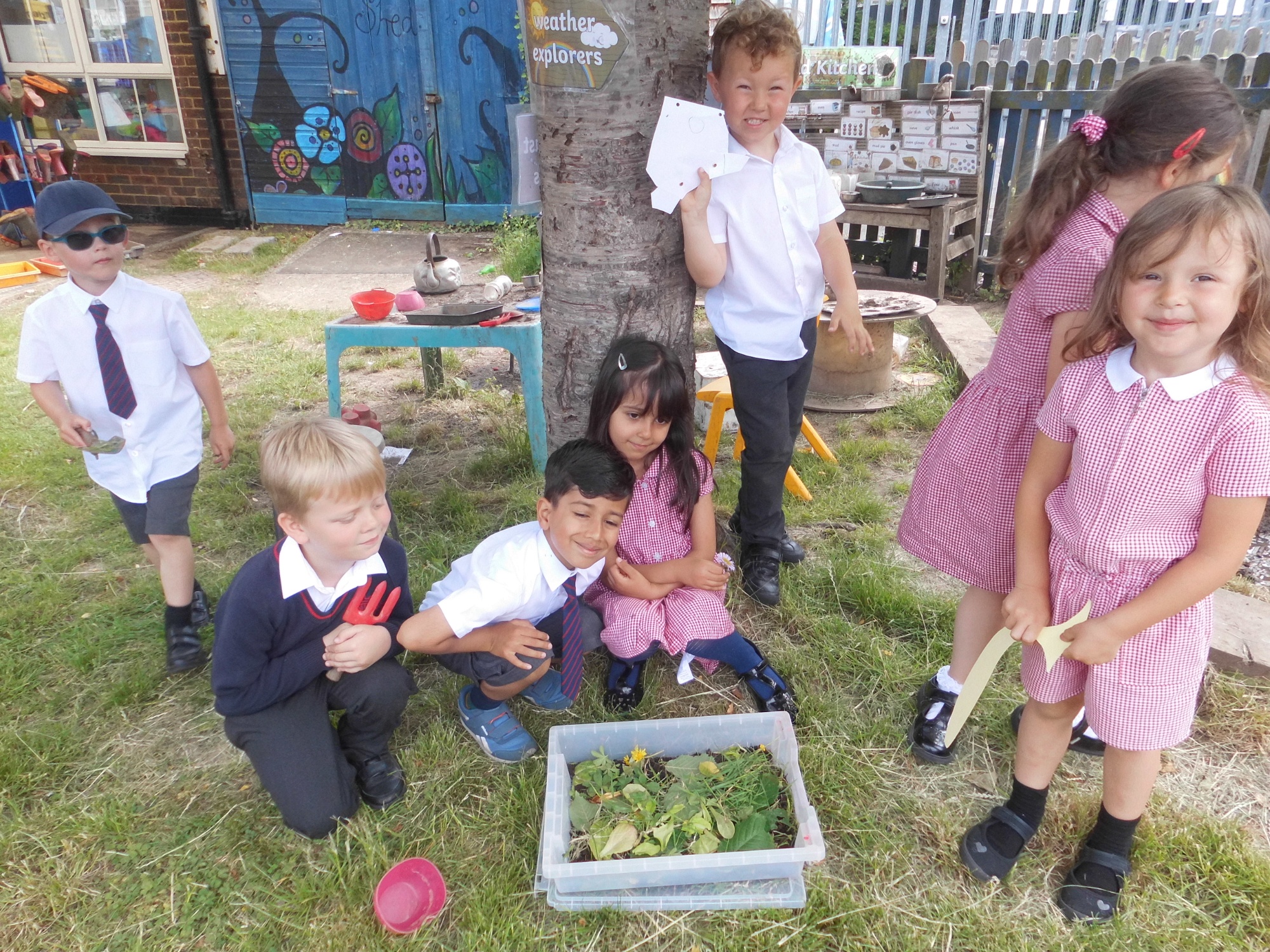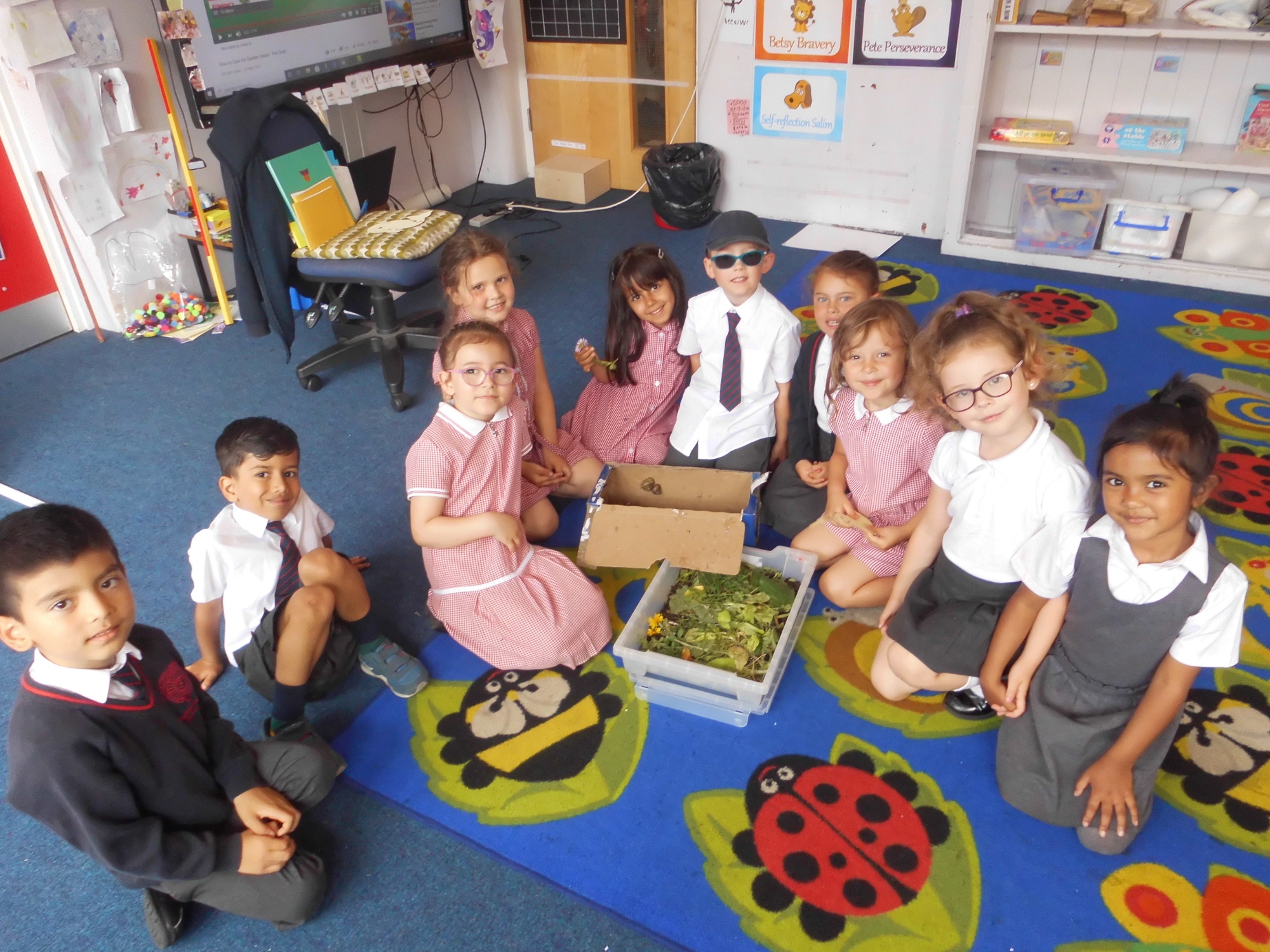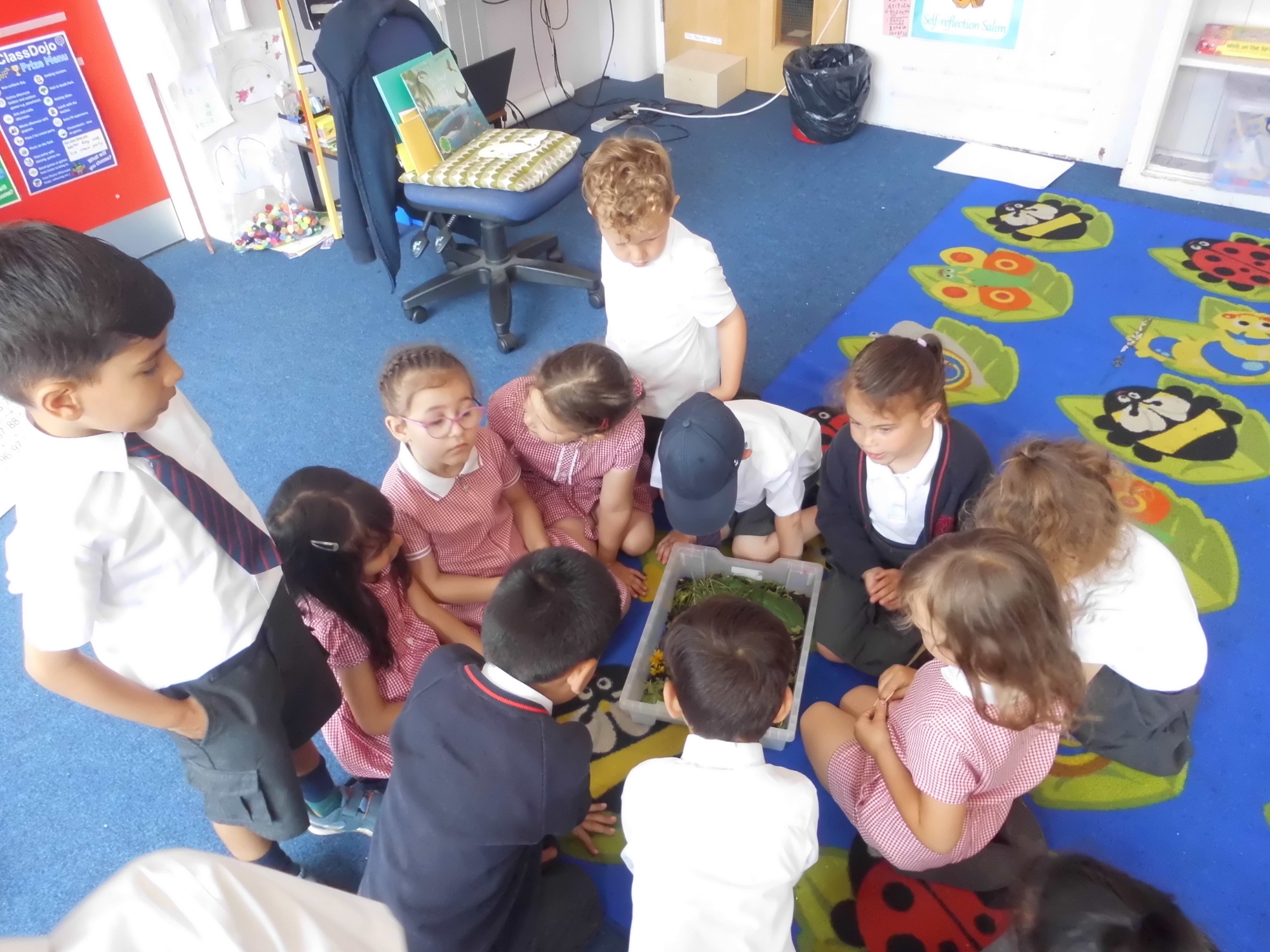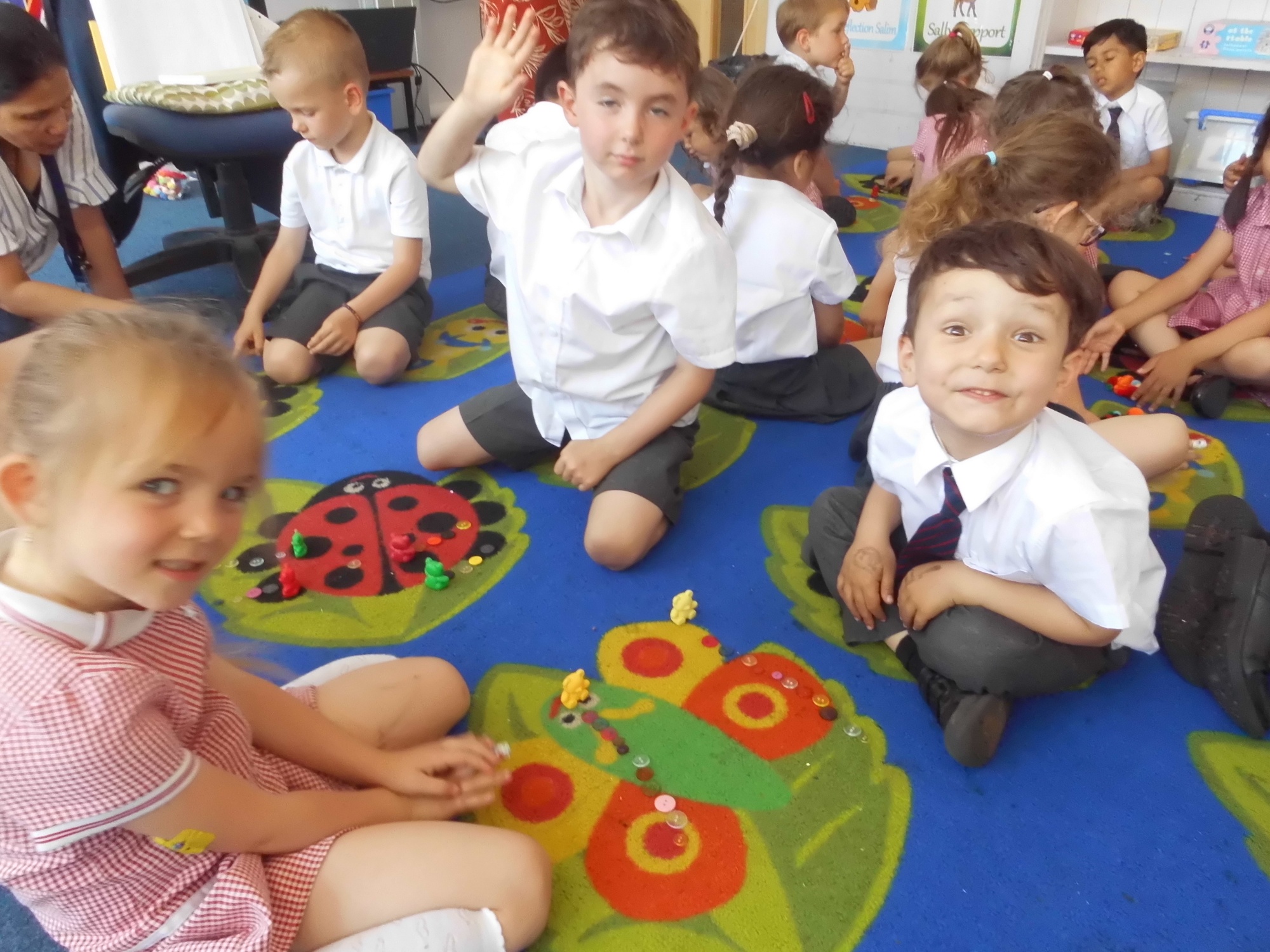 14/05/2021
The last two weeks we have been looking at 'Mr Gumpy's Motor Car'. In this story Mr Gumpy's car gets stuck in the mud and the passengers initially refuse to help, but then they work as a team and manage to push the car out of the mud. We have been talking about being kind and helpful, supporting others and also how sometimes working as a team is better than working on our own.
We have been looking at cars and traffic signs, so maybe on your way home or on your way to school, you could see what traffic signs you spot and have a little chat with your child about their meaning. We have been using cars to mark make and paint, role playing the story and making cars using different resources. We have also looked at the different parts of a car and different types of cars.
In Maths we have been looking at teen numbers and how they are made of a group of ten and some extra ones. We quickly picked up the pattern! Also we have been playing lots of adding games to keep practising our adding skills.
We have also been talking about Ramadan and EID and celebrating it by making cards to share with others. We also had Karim, our lovely chef, visiting our classroom to tell us more about it. So "Eid Mubarak" to all of those who celebrate it.
For the next two weeks we will be looking at the story 'Tiddler' from Julia Donaldson and Axel Scheffler. This story is about a small fish that likes telling tales about why he is getting late to school. We will be looking at boats and other water vehicles.
30/04/2021
Welcome back to Term 5. We hope you had a relaxing Easter break!
This term we are learning all about different modes of transport, 'Vehicles'.
The first text book we have been looking at is called 'The Dinosaur that pooped a planet'.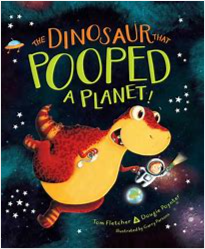 A supersonic space adventure filled with planets and poop, which the children are enjoying very much. This is a story of a boy, a space rocket and his very hungry dinosaur. When the boy Danny realises he's forgotten Dino's lunch box, the very hungry dinosaur eats everything in sight, including their only way home... the rocket!
Children have been creating 3D space rockets from junk modelling, writing about space travel and painting and drawing different planets, dinosaurs and rockets.
In Maths we have used rockets for counting one more than and one less than, and writing number sentences to represent addition and subtraction problems and sums.
By Tom Fletcher and Dougie Poynter.
Next week, we shall be learning all about 'Mr Grumpy's Motor Car' by John Burningham.
01/04/2021
On Friday 26th March Reception had our planting day. We learnt about the life cycle of plants and most importantly what plants need to grow. We enjoyed planting many different seeds including tomatoes, potatoes, lavender, beetroot, herbs, carrots, lettuce and spinach beet.
We planted our own cress seeds by placing cotton wool into a pot, followed by a splash of water and then finally sprinkling on the cress seeds. At the end of the day, we took our cress pots home.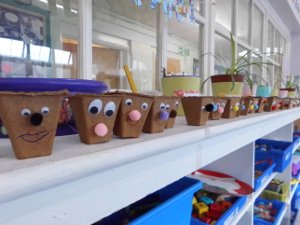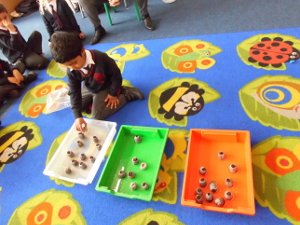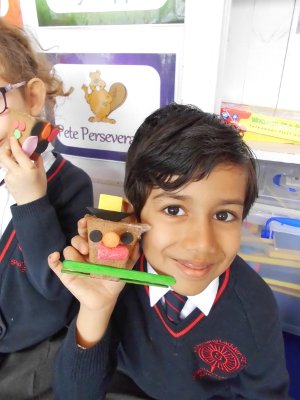 19/03/2021
Both Reception Classes enjoyed the game of 'Kickball' for our PE day. If the large ball came near you, you had to move forward (without letting go of your friends' hands) and kick the ball across the circle to the opposition. This was challenging!
Reception Classes participated in running races in their coloured teams, cheering each other on. This was competitive!
Red and Green Classes competed against each other in a game of 'Tug-of-War'. The Nursery cheered us on!
Next, we played the 'chair upright' game, where we had to be quicker than our opponent in standing the row of chairs up straight (one at a time) in a line and hold aloft the ball to win the round. This was fun!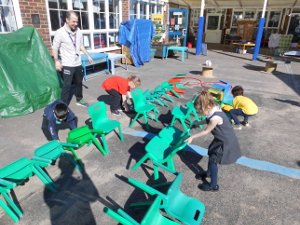 In the hall we used our core strength to straddle over cones on all fours. This was hard work!
A big 'thank you' goes to the parents and carers for ensuring your children were dressed in their P.E kits and for providing them with their well needed water bottles.
We all had such a lovely enrichment day, the sun was shining and the children were smiling, what more could you wish for!
For our Superhero enrichment day, children in Reception enjoyed creating their own superhero outfits, including masks, arm bands and cloaks.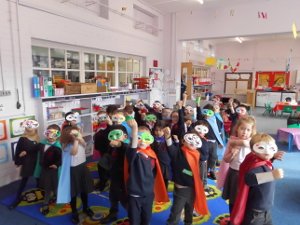 The children and the adults had to test their superhero skills taking part in different ability activities including strength, climbing, jumping, crawling, weight lifting, turning invisible, throwing.
We overcame our fears and tried our best to take part in all of the activities. At the end of the day we all received a well earnt 'Superhero Certificate' to prove that we had completed superhero training.
Reception Green Class: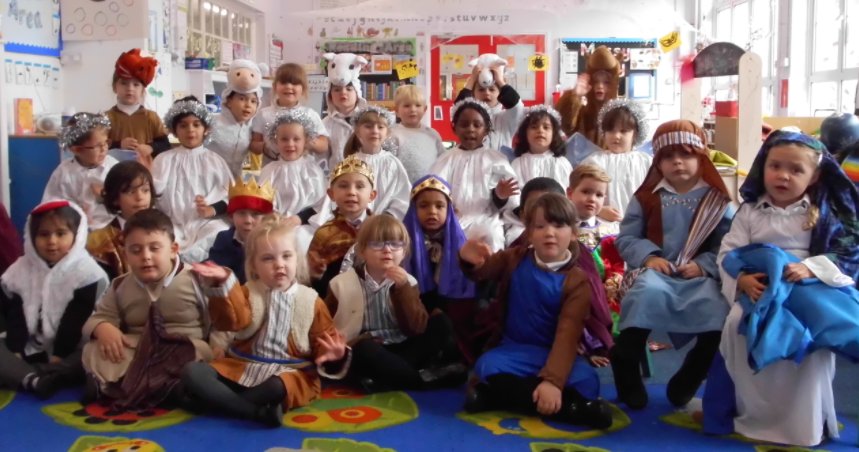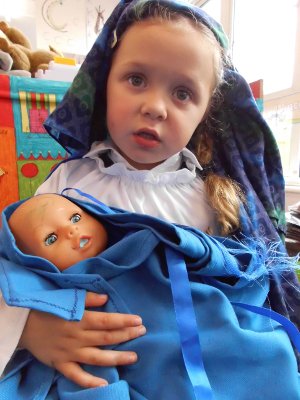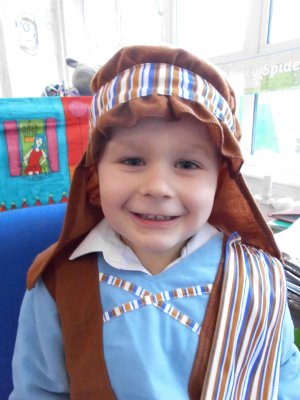 Reception Red Class: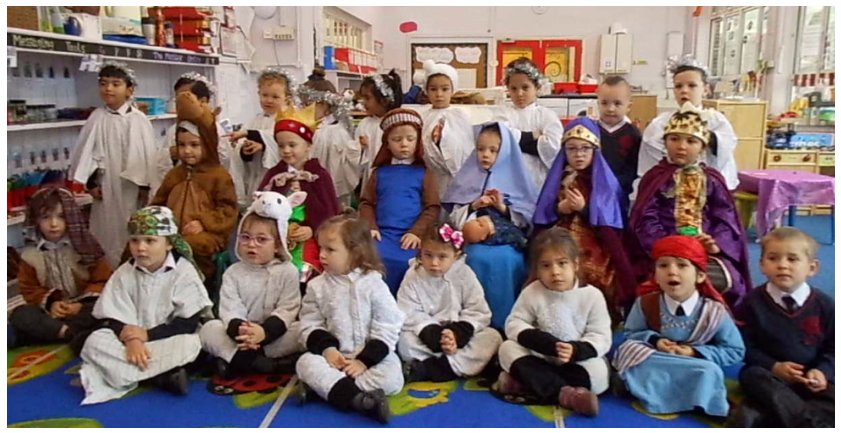 Both Green and Red classes have been learning all about spiders!
To support our learning, we have been reading the book 'The Very Busy Spider' by Eric Carle.
We have talked about the animal characters, the story setting and the author of this classic children's book.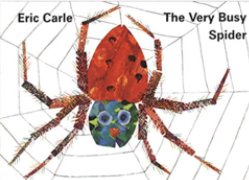 The farm animals in the story try to divert the busy little spider from spinning her web. (Just like Reception with regards to our own learning) the spider persists and produces a thing of both beauty and usefulness.
During free-flow, Green class children have created their own little story book about a very busy spider. They have used their phonics knowledge to write initial sounds and words.
In Maths children matched the same amount of legs on their spiders and the numerals that were displayed on the maths table.
If you would like to read the story too, please click on the link below. Enjoy!
www.youtube.com/watch?v=TfL0g-XRxnA
27/11/2020
In Reception we have been learning about the story 'Handa's Surprise'. We have enjoyed reading the story and talking about the different animals that appear in it and also the nice healthy fruits that the cheeky animals steal from Handa's basket. We have also spoken about kindness and friendship and how Handa is nice to her friend Akeyoo.
We have been busy making shopping lists, recipes and also using our cutting skills to chop the fruit to make some delicious fruit kebabs that we enjoyed eating at snack time. We have also been making sculptures of different animals and other many things using clay and plasticine.
In phonics, we learned some new sounds and now we are starting to use the sounds that we have learned to write and read some words.
In Maths, we have enjoyed learning about size, weight and capacity and have been comparing and ordering things accordingly. We have also looked at repeating patterns and circles and triangles in the environment.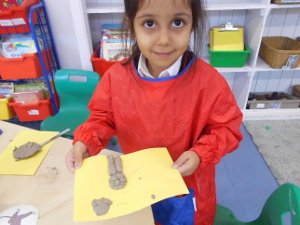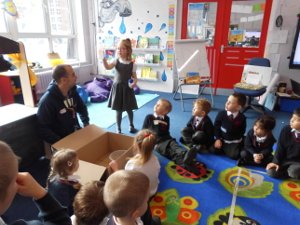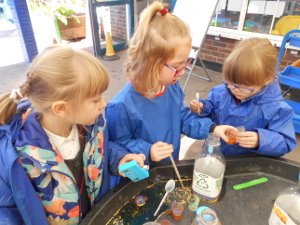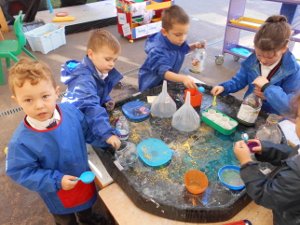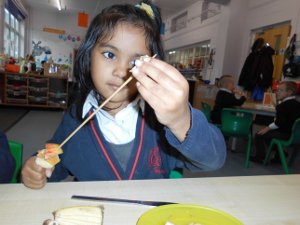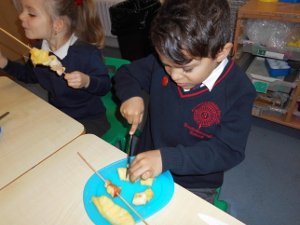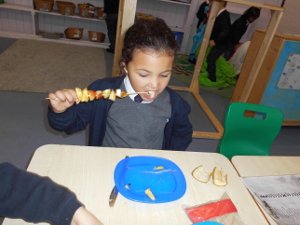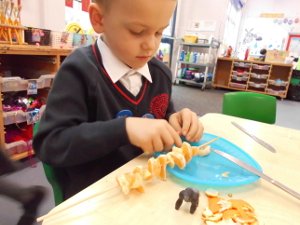 Reception Green Class - Maths learning; patterns: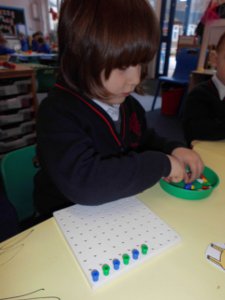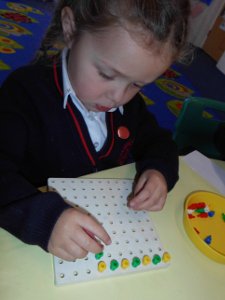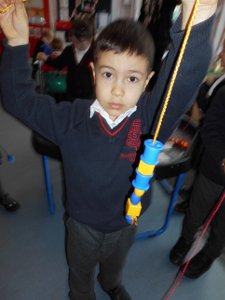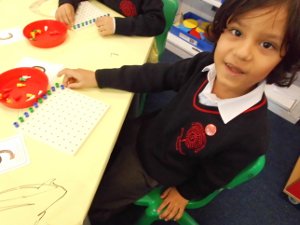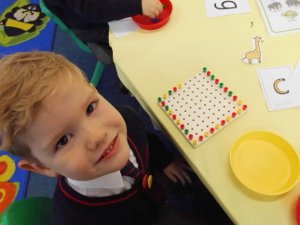 Pupils ordering capacity: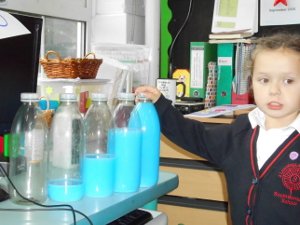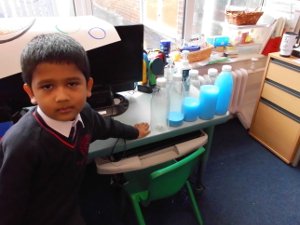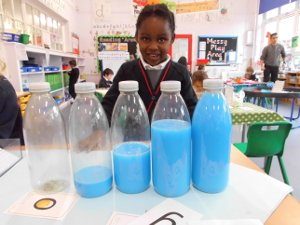 Ordering size: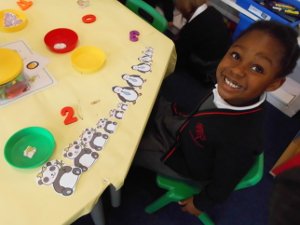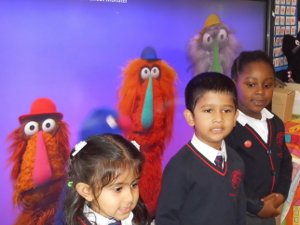 13/11/2020
Welcome back to Term 2.
This term we will be learning about different animals.
The focus text book this week is called 'Dear Zoo' by Rod Campbell.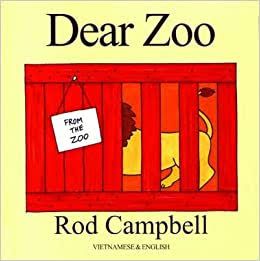 In the story a child writes to a zoo for a pet. The zoo send a series of unsuitable pets, revealed behind flaps in the form of crates and packing cases. These animals are all sent back for different reasons, except the last one, which is perfect!
Not only has the story helped us explore the names of different animals and the sounds that they make, the way they move and where they live, this book has helped us learn about size, space and weight of the animals and their packaging.
Children have been making their own letters and story books with flaps and writing using the initial sounds that we have been learning in phonics: s, a, t, p, i, n so far.
Next week we will be looking a new book called 'Handa's Hen' by Eileen Brown.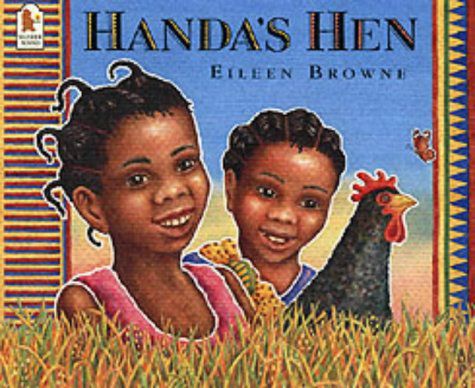 16/10/2020
Reception classes have been learning about the story of Elmer, an elephant who looks different from his herd. On the creative table, ee have made puppets and masks and designed our own Elmer elephants. In maths we have been looking at colours, squares, patterns and patchwork.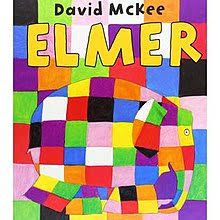 We have been practising Elmer songs and poems and have played an elephant counting game. Elmer by David McKee has strong and positive messages within an enjoyable and funny story. It is a great starting point to explore activities relating to diversity, multiculturalism, personal identity, individualism and friendship as well as colour and pattern.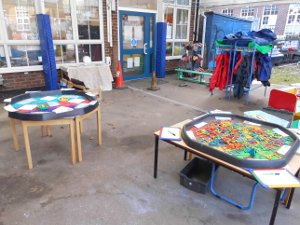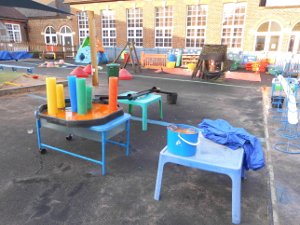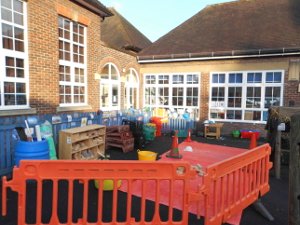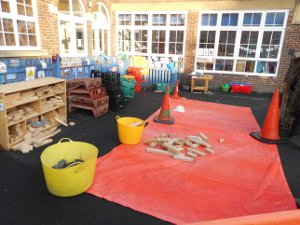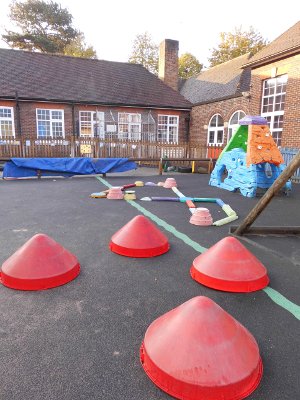 02/10/2020
In Reception we have enjoyed staying for lunch and eating together in the dinner hall. Now we have also started full time and we are having so much fun while spending more time at school. This week and next week our book is 'My Big Book of the Five Senses' and we have been using our senses to explore the environment around us. We have played "I spy with my little eye...", played with some scented playdough and discovered some smelly stickers that we can get if we work really hard. We have also used our sense of taste and tried a variety of food with different flavours.
As the weather this week has been a little bit wet we have also spent time outside jumping in puddles and having fun with the water. Please, make sure that you provide your child with the right clothes and maybe some spares as even though we always wear the right clothes when playing with the water, sometimes we are so enthusiastic that we still get a little bit wet.
18/09/2020
Can you do it?
Children have been focussing on the story 'From Head to Toe' by Eric Carle. They have been moving to music - their heads, necks, shoulders, arms, hands, back, hips, knees, legs, feet and toes just like the animals in the story. Children have loved playing and learning in the sand, water, messy and book areas!
We can do it!