Year 5
Class 5S
Teacher: Mr B Smith
Class 5W
Teacher: Mrs T Watts
Celebration of Work
16/07/2021
In Year 5 we have been developing our persuasive writing skills by writing a letter linked to the fantastic book, The Man Who Walked Between the Towers. The book is a true story of Philippe Petit, who walked a wire 411 metres high, between the Twin Towers in 1974.
In Art we have been exploring perspective, creating imagery and using simple rectangular shapes to enhance our artwork. We have enjoyed our R.E. lessons, where we have learned about pilgrimages, and the importance of a journey within many religions.
We had a great time during our Sports Morning, where we were able to put all our skills into practice as we supported our team mates in a variety of activities.
18/06/2021
Year 5 we are continuing to work hard in all of their learning. In English we are enjoying reading Kensuke's Kingdom and writing our own exciting story inspired by the text. In Maths we are continuing our learning of fractions, developing our skills to include decimals and percentages. Our PE lessons are fun and engaging and we have made the most of the glorious weather by practicing our athletics skills in preparation for Sports Day. In Art we are continuing with our Natural Disasters topic by creating abstract artwork inspired by Andy Warhol's 'Volcanoes' piece. We also enjoyed a well deserved reward for earning in excess of 2,000 class dojo points and had great fun on a trip to South Park.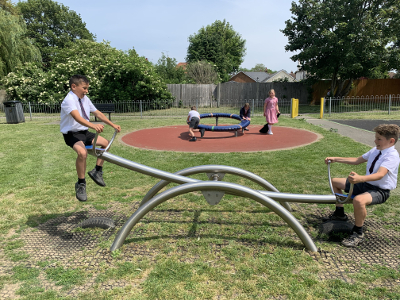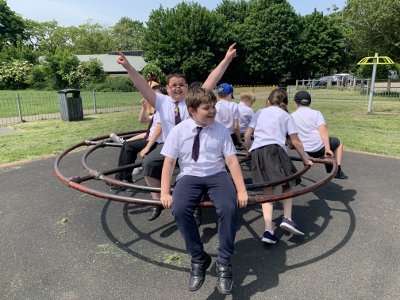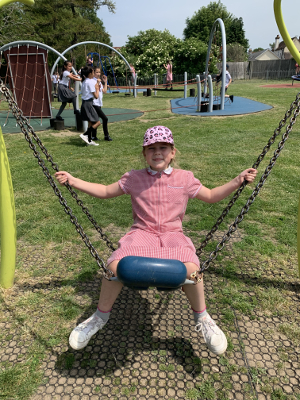 14/05/2021
In Year 5 we have been tackling fractions learning with immense bravery and perseverance! In our computing lessons, children have been researching different types of natural disasters, exploring a tactical "natural disaster game" and finally presenting their learning in an engaging and interactive way, via the use of Google Slides. Finally, the children have begun to build their volcanoes. This week, they have started to paper mache their models, ready to design and paint next week!
01/04/2021
Year 5 has had an incredible few weeks of learning. In our English lessons we have been focusing on birds and produced some beautiful, engaging and informative pieces of writing about different breeds of bird. Alongside this, the children have had 2 experience days in which we focused on birds and nature. The children have built birds nests, created slime, made dream catchers and also enjoyed a range of PE experiences such as dodge ball, table tennis, hockey and football.
13/11/2020
In Year 5 we have been working really hard, both in school and on our Home Learning. We have begun a really exciting new piece of writing, where we are using our most sophisticated vocabulary to describe a mountain. We are looking forward to seeing some of our work displayed in the near future. Our reading lessons have linked with our Rivers and Coasts topic, and this week we have been reading the beginning of The Wind in the Willows. It is fun to learn about the adventures of Mr Rat, Badger and Mr Toad. In our topic lesson we became Art Critics - we had the task of studying a variety of pieces of artwork depicting the River Thames and giving our opinion of each. We have also had great fun in our Science lessons, especially when we designed and made our own pulley systems.
16/10/2020
The children in Year 5 have been enjoying our latest piece of writing based on the book, The Whale by Ethan and Vita Murrow. We particularly enjoyed the experience and drama sessions, where we really got to develop our understanding of the characters.
In Science we have been developing our knowledge of forces, and have had great fun designing and making parachutes, before launching them with an egg attached - a messy but fun activity!
02/10/2020
Year 5 have been focussing on factors and prime numbers in maths. The children have had to use their problem solving skills to work out which numbers are prime numbers and which numbers are composite numbers! In our music lessons, the children have been recreating Samba music!
18/09/2020
Year 5 have settled into the new academic year really well. They are showing how pleased they are to be back with their classmates and have approached their learning with eagerness and enthusiasm.
In English we have been learning to write a short narrative based on the book, Cosmic. We have been using a great variety of vocabulary and re-visiting sentence structure and punctuation to ensure our work is of the highest standard. We have also been doing lots of reading and are enjoying our class novel, Song of the Dolphin Boy. This novel links well with our Rivers and Coasts topic; so far we have been learning about The Water Cycle.
We have enjoyed our PE lessons where we are developing our throwing and catching and batting skills in order that we can play rounders. It has also been lovely to spend some time on the school field while the weather has been fine.