Celebration of Work
30/04/2021
Welcome back to Term 5. We hope you had a relaxing Easter break!
This term we are learning all about different modes of transport, 'Vehicles'.
The first text book we have been looking at is called 'The Dinosaur who pooped a planet'.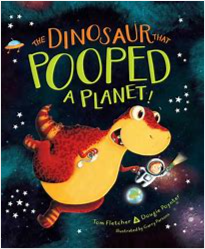 A supersonic space adventure filled with planets and poop, which the children are enjoying very much. This is a story of a boy, a space rocket and his very hungry dinosaur. When the boy Danny realises he's forgotten Dino's lunch box, the very hungry dinosaur eats everything in sight, including their only way home... the rocket!
By Tom Fletcher and Dougie Poynter.
Nursery have been creative with making space rockets from junk modelling, using playdough, paint and drawing the different planets, dinosaurs and rockets. Our role play area is a travel agent, so the children have been busy with booking in holidays and looking at where they would like to go. We have been learning about rockets, space and astronauts. In Maths we have used snack objects, dinosaurs, rockets and planets to combine two groups together (early addition). Last week in Maths, we looked at the 2D shapes of circle, triangle, rectangle and square. We looked at how many sides and edges each shape had. In Phonics we have been learning rhyming words and hearing the initial sound in words.